Debut: Katowice, National Theater of Silesia, October 30, 1955

| | |
| --- | --- |
| Translation | Zofia Ernstowa e Ryszard Landau |
| Direction | Zbigniew Sawan |
| Set | Andrzej Cybulski |
| Costume | Michala Walczaka e Malgorzaty Kucielowej |
Characters and performers
| | |
| --- | --- |
| Emma | Helena Rozwadowska |
| Lucia | Anna Jakowska |
| Elli | Danuta Kwiatkowska |
| Professor Curbastro | Piotr Polonski |
| Pippo | Andrzej Hrydzewicz |
| Peppe | Mieczyslaw Jasiecki |
| Bartali | Wincenty Grabarczyk |
| Pio | Michal Lesniak |
| Piera | Genowefa Wieczorek |
| Remo | Adam Kwiatkowski |
| Tamburini | Rajmund Fleszar |
| Barzilai | Wladyslaw Brochwicz |
| Nora | Liliana Czazska |
| Boidi | Tadeusz Hanusek |
| The mason | Edmund Ogredzinski |
| The doctor | Stanislaw Czaszka |
| The lawyer | Zbislaw Ichinowski |
| The agent | *** |
| The journalist | Wladyslaw Kozlowski |
| A woman | Eugenia Kwiatklewicz |
| First man | Romuald Bojanowski |
| Second man | Rudolf Zbrojewski |
| Third man | Bernard Krawczyk |
| Fourth man | Henryk Dworczykowski |
Italian debut: Rome, Teatro India, 9 June 2015
| | |
| --- | --- |
| Direction | Piero Maccarinelli |
| Assistant director | Ulduz Ashraf Gandomi |
| Set | Piero Maccarinelli |
| Costume | Gianluca Sbicca |
| Music | Antonio Di Pofi |
| Scenic movements | Francesco Manetti |
| Video editing | Luca Onorati |
| Images of the Istituto Luce chosen by | Roland Seiko |
Characters and performers
| | |
| --- | --- |
| Emma | Sara Pallini |
| Elli | Maria Teresa Campus |
| Lucia | Alice Spisa |
| Professor Curbastro | Luigi Diberti |
| Pippo | Stefano Scialanga |
| Peppe | Paride Ciciriello |
| Bartali | Nicola Sorrenti |
| Pio | Roberto Caccioppoli |
| La Piera | Barbara Chichiarelli |
| Remo | Giulio Maria Corso |
| Tamburini | Alessandro Meringolo |
| Barzilai | Stefano Santospago |
| Nora | Antonietta Bello |
| Boidi | Pietro Masotti |
| The mason | Carmine Fabbricatore |
| The doctor | Jacopo Uccella |
| The lawyer | Vincenzo D'Amato |
| The agent | Gregorio De Paola |
| The journalist | Michele Lisi |
| Men, women, agents | |
Written by Squarzina between 1945 and 1948, this is his first play, and winner of Premio Gramsci for theatre in 1949. The jury that awarded this honour represented the very cream of the Italian theatre: Eduardo De Filippo, Luchino Visconti, Vito Pandolfi, Paolo Stoppa, and Stefano Landi.
It was staged in Italy for the first time only 66 years later, on 4 June 2015, in a production by Teatro di Roma and Regione Lazio directed by Piero Maccarinelli. Initially in Italy, only readings were performed: Vittorio Gassman in Rome in 1950; Giorgio Albertazzi at Gabinetto Vieusseux in Florence in 1951; at Rome's Palazzo delle Esposizioni, on the occasion of the exhibition Roma sotto le stelle del '44, storia, arte e cultura dalla guerra alla liberazione, directed by Piero Maccarinelli, in 1994; and on 12 January 2015 at Teatro Argentina, with the same director.
The work was, however, successfully staged on 30 October 1955, at the Slesian Theatre in Katowice, Poland, and was translated into Russian and published in Moscow in 1959.
In the play, Squarzina recounts the miserable conditions of a homeless community that has taken refuge in one of the empty buildings in Rome's EUR districts, the works for which have been interrupted since 1940. But the building has become part of the speculative plans of a self-styled journalist who wishes to convert the construction area into a large residential complex – which of course means vacating those buildings. The disruptive action of the false journalist, who enters into the community in disguise, brings to light the conflicts, the ideological and cultural differences, and the psychological weakness of the members of the community, some of whom give in to economic blackmail. In the end, the community is forced to relocate to an even more squalid camp for displaced people; the last holdouts are killed by the police in a fire fight. 
While Squarzina's account presents a close-up of the individual stories of these disinherited persons, the social reality of severe postwar poverty clearly emerges in the background.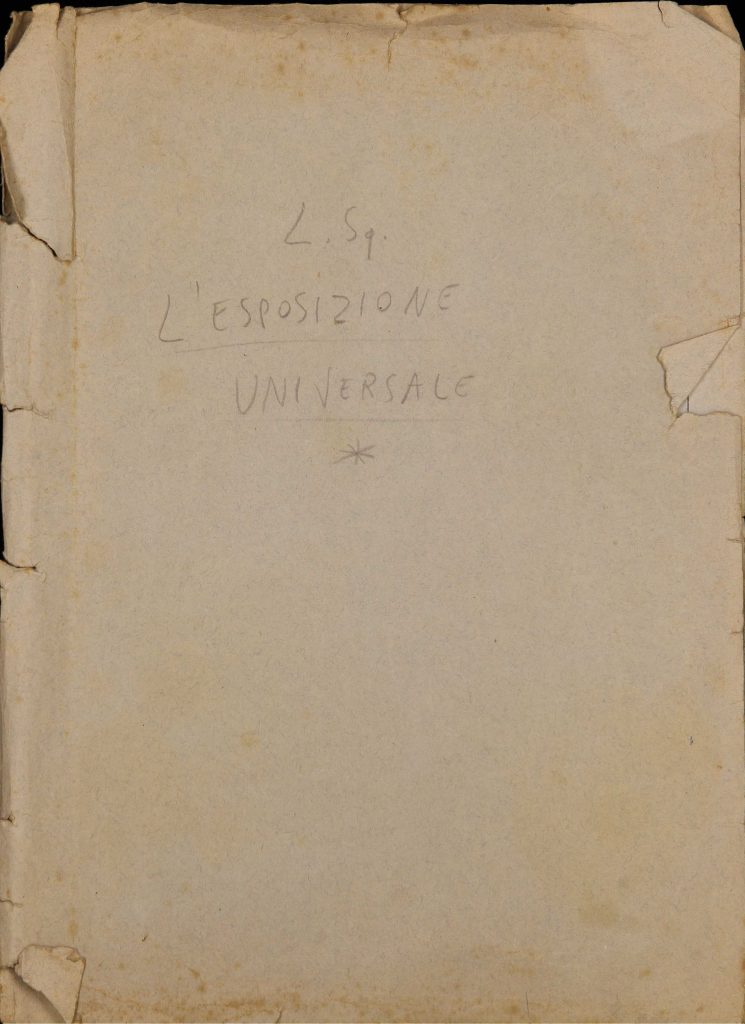 "… perhaps certain group scenes, or the final shootout, or a few close-ups of characters like Barzilai or Remo, might bring to mind a cinematographic vision, while some expressions in jargon or Roman dialect might be seen as expressions of neorealism; but both these aspects … are clearly just a minor part of the overall work. Mine is a keenly theatrical text that follows the rules of dramatic structure; it is not a work of neorealism. To be sure, reality is quite present in my work, as it can be in the theatre; it is a reality of poverty and alienation, within which I forced myself to describe the soul of humble characters with no ideological prejudices",
Luigi Squarzina
From E. Testoni, Dialoghi con Luigi Squarzina, Florence, Le Lettere 2015, p.89